Since the inclusion of coverage for SRS/GRS/GCS genital surgery for trans people, the number of people seeking surgery has increased immensely.
In a recent discussion between an international group of professional electrologists, including our own Keri and Natalie, we have become concerned that many surgeons are telling their patients NOT to bother with hair removal or that they only need three months worth of removal before surgery, because we're seeing an uptick in post-operative clients seeking hair removal. Particularly for trans women seeking vaginoplasty using the penile inversion technique, postoperative hair can be quite challenging for the electrologist and very distressing for the client, since the hair is now inside of the body and pointed at an angle away from the surface.
Hair concerns for trans women after genital surgery:
Imagine someone laying on a bed as we look down from an overhead view, imagining being able to see through the pubis and into the neo-vagina: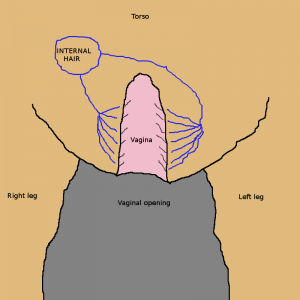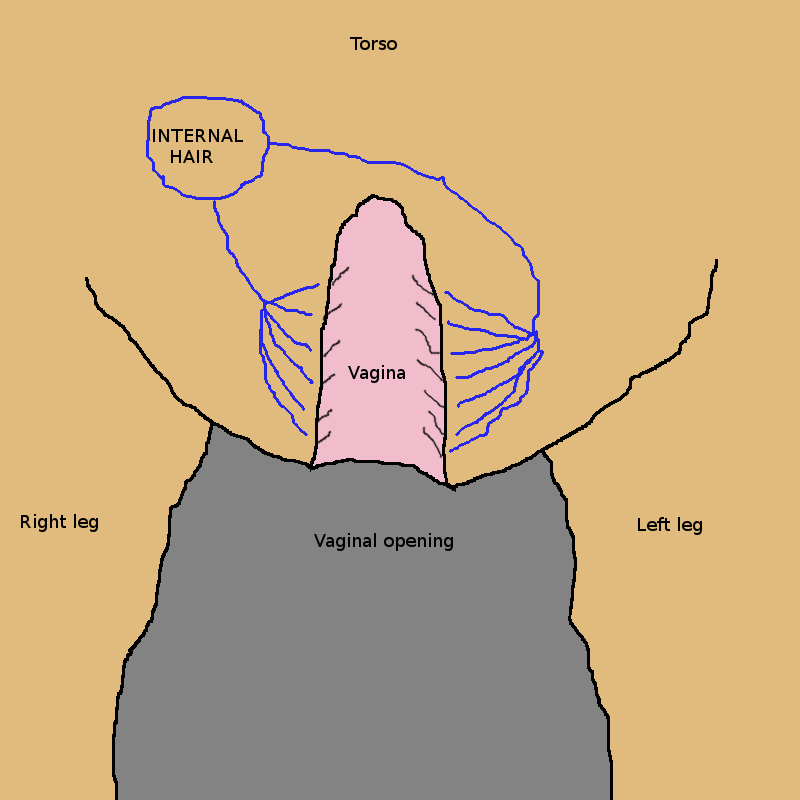 What we see here, is the skin that was used to make the vagina now has hair growing, pointing inward. This hair can cause pain during vaginal penetration (including dilation), bleeding, infections, etc. Sometimes, depending on the angle and length of the hair, it can also grow to hang out of the vaginal opening, increasing dysphoria. Because the hair is now inside the vagina, removal requires the use of a speculum to spread open the vagina, specially angled lighting just to try to see the hair, probes bent back upon themselves to try to insert at a proper angle, and a lot of patience on the part of the electrologist and client as they attempt to treat the hair. Because of the difficulty involved, most electrologists are not capable of doing the work and most surgeons will tell their patients that it is simply unfortunate and that nothing can be done about it.
Why does this happen? For starters, while surgeons may be quite knowledgeable and skilled in the practice of surgery, most don't really understand the process of hair removal that well. A mechanic may know how to rebuild your engine, but that doesn't mean they will do a good job painting your car. Even if a surgeon DOES fully understand the process, many of them fail to effectively communicate with their patients, giving misleading or ambiguous preoperative instructions (advice on how many sessions, how early to start, illustrations of what areas to cover, etc are often poor). Because of their failure to convey good information, many MTF surgeons see poor outcomes with patients that had some removal, so some surgeons now instruct their clients not to bother with any hair removal at all before surgery, promising they'll either scrape or cauterize all of the hair during surgery. The reality, is that nobody is 100% perfect and there is only so much time available during surgery to remove hair, and often hair ends up being left behind to grow.
Here's the bottom line: to ensure that no hairs are left dormant and untreated, it takes approximately 6-10 months for all of the hair in the genital area to go through a full dormancy cycle. This means that, at a minimum, you should give your electrologist at least a year, preferably two years, to remove all of your hair prior to your surgical date. Yes, we understand that you want surgery as soon as possible and some surgeon you've contacted can get you in six months from now… but you really should wait, so that your hair can be properly removed, if you want to be sure that you don't end up with postoperative internal hair. Also, laser is NOT approved for permanent REMOVAL of hair, only for "permanent REDUCTION" of hair. We frequently see hair that grows back after laser, sometimes years later. Five or ten years from now, laser can put you in the same situation as if you did no hair removal at all.
If you want to be absolutely certain that you will not have hair in your vagina, it is imperative that you start electrolysis, and only electrolysis, at least a year before your intended surgery date.
Hair concerns for trans men after genital surgery:
Phalloplasty usually involves taking skin and tissue from the forearm or thigh and then using it to make a penis. Often, it is not possible to extend the urethra through the penis without also making an urethra from the skin as well. Hair on the penis can generally be worked on after healing, since the skin is still at the surface, however, the skin being used for the urethra should be perfectly hairless before surgery. Like in the case of trans women above, once it is inside the body, it is tremendously difficult to work on internal hair and it can cause very similar problems – discomfort, bleeding, infection, stricture, etc. To our knowledge, nobody is even attempting to removal hair from the urethra after surgery, but fortunately, FTM surgeons seem to be much better in understanding, illustrating, and communicating pre-surgical needs.
Thus, the best plan of action is to come in at least one year, preferably two years, before your intended surgical date.